The access of this website is not granted to underage users
In order to enter this site, please certify that you are of legal age to access a shop selling age restricted products
SORRY, you don't have legal age to access to our website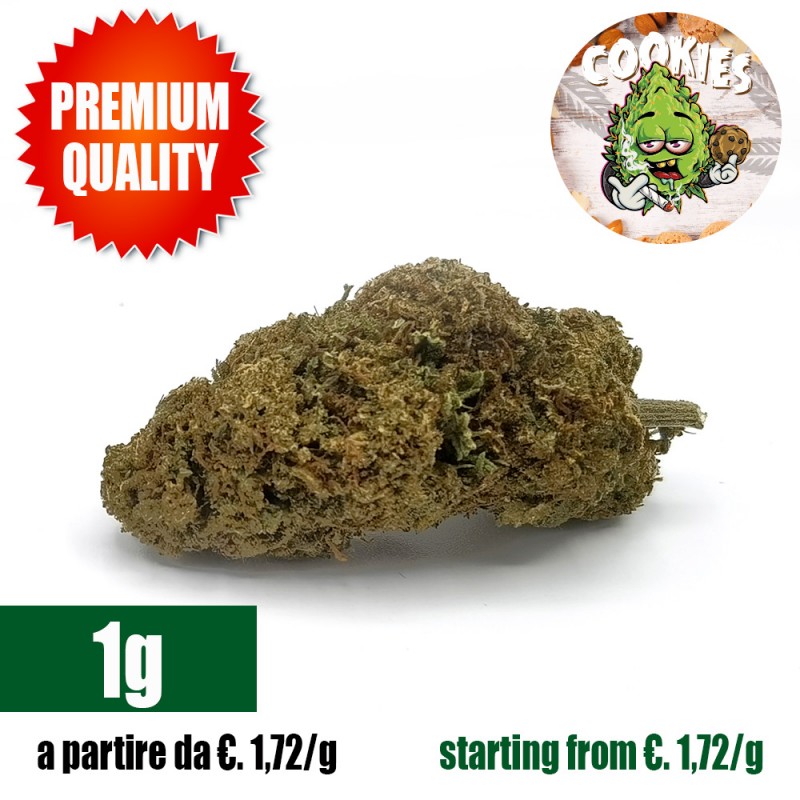  
Cookies CBD
Tax included
Shipment 1-2 day
Immediate shipping for orders placed before 4pm
Free if the cart exceeds € 60 (Italy) and € 100 (EU)
CBDWORLD is a safe site where you only find natural products
We only use certified ingredients of traced origin
Secure payment with your credit card
The Viva Wallet payment platform uses the most up-to-date security certificates
Cookies - Legal Weed 2021
A bubbly genetic, Cookies has swollen buds full of grass green color and orange and reddish pistils. The fragrance is clean and well defined with a biscuit aftertaste that makes it truly lovable.
Organic cultivation without the use of pesticides and chemical additives gives this selection of COOKIES a rich terpene bouquet.
This Cannabis Light selection is free of heavy metals and / or materials harmful to humans, with a THC percentage of less than 0.5%, for the uses permitted by Law 242/16. The selected inflorescences have been grown with organic products, tanned and worked by hand. It is not an edible product, nor for smokers.
The sale to minors under 18 is strictly prohibited. Keep out of reach of children.
THC  <0,5%
CBD+CBDA  <20%
INFORMATION:
The percentage of CBD represents the maximum value obtained in the laboratory of analysis on this variety and is purely indicative since the percentages of cannabinoids can also vary significantly from one flower to another.
Cookies CBD is a product based on legal hemp with CBD. 
CBDWorld is a distributor of Products derived from Industrial Hemp. In addition to inflorescences with CBD we have a available various products including Hemp inflorescence with CBD, oil with CBD, products for electronic cigarettes based on CBD and liquids with CBD broken down and/or to be mixed . Besides the classic products we also sell cosmetic products such as Soaps with extracts from CBD, Shampoo with CBD, creams with CBD. None of our products is to be considered a drug.
8 other products in the same category:
Customers who bought this product also bought: